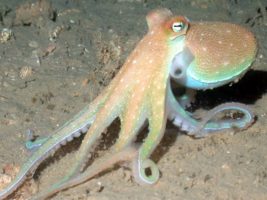 Random Science Fact #97
Octopus don't have tentacles.
Cephalopod tentacles are long and
only have suckers near their club
shaped ends. The limbs of an octopus
are called arms. They have suckers the
entire length of the arm and they are
shorter than tentacles. Squid and
cuttlefish have 2 tentacles as
well as 8 arms.
Get the Shirt!

More Random Science Facts
More Random Science Facts T-Shirts